Alma Pierre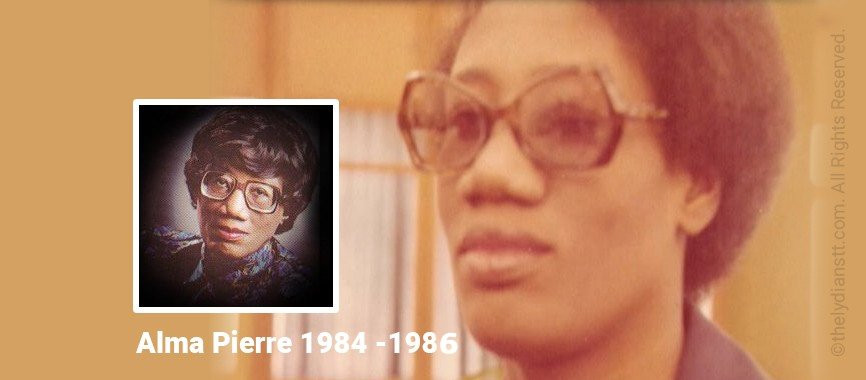 2nd Musical Director (Deceased)
Excerpt from "History of the Lydians", by Jennifer Jones-Morales, July 1997
Alma Pierre's childhood years on the piano prepared her well for a vibrant career in the interpretation, conduction and adjudication of music. A graduate of the University of Toronto and Licentiate of the London Trinity College of Music, Alma Pierre provided technical advice in the classical music and test pieces of the Merritones Steel Orchestra from the 80s to 1992. Since then, she taught piano and voice at the School of Music in St. Lucia in 1993 and conducted courses in playing the steelpan for adults and children in Trinidad. 
A common face in the adjudicator's box at both School and Adult Panorama Competitions, Pierre also excelled as a choral trainer and conductor, serving as musical director of the Lydians Singers for several years.
Under the leadership of Alma Pierre, major music was performed at concerts held, which included those at All Saints Church Hall where "Onaway, Awake Beloved" from Scenes from the Song of Hiawatha was one of the solos. Elder members will recall that it was performed by Tenor soloist Andre Alexander in July 1994 in honour of Ms. Pierre at the Lydians' "Joyous Jubilee in July" Concert at the Central Bank. Unlike Mrs. Spence, Ms. Pierre had chosen a varied repertoire which included parang and classics, Negro Spirituals, some of which we still sing today, like "Climb Up Chillun". Gillian Ballinthulo and subsequently Mr. Edward Henry provided the accompaniment.
In those days, the Lydians comprised about forty members. Miss Pierre had taken the choir to perform for radio. This soft spoken and meticulous composer is fondly remembered for her piece "Christmas Mento". Choir members also happily recount their performances of the song cycle "Quiet Rain", "Early Spring" and "The Flowering Almond Tree."
"Ms. Pierre was a distinguished musician who epitomised the virtues of integrity, dedication and commitment to excellence. She will fondly be remembered for her art songs and parang arrangements."
'Millestones', Lydian Notes (Newsletter of the Lydian Singers), Vol1, No.1 | Dec. 1998
The year 1987 was another turning point for the Lydians. Ms. Patricia Bishop, a.k.a Pat, had been invited to assume the Musical Directorship and take the choir to the Music Festival that year. Her task at hand was very clear. The Lydians were, not simply to compete in Festival, but also to win, and they did just that!