The Lydian Treasury – A Ruby Repertory

Excerpts from "The Lydian Treasury – A Ruby Repertory"
by Former Music Driector, Carl Anthony Hines on a 40-Year Legacy of Lydian music and the women who brought it to life....
"…Lap me in soft Lydian airs,
Married to immortal verse,
Such as the meeting soul may pierce
In notes with many a winding bout
Of linked sweetness long drawn out,
With wanton heed, and giddy cunning,
The melting voice through mazes running,
Untwisting all the chains that tie
The hidden soul of harmony…"
from "L'Allegro,"
I-    J. Milton,
The Repertoire of the Lydians at its onset, as its origin and even naming attest, were birthed from cultures and times far afield from the shores and climes of the Caribbean, but universally held in high regard as "Classical" canon. I like to imagine, as with The West Indian Cricket Team, we at some point were a standard; a symbol raised in challenge to the notion that we could not be excellent at the works and games considered high art of the "western world." That daring that sought and gained self-governance and independence, now channeled into the urge to meet and surpass every marker of refinement, (and laughing riotously as we turned this on its head).
The Genesis
In the beginning there was Spence...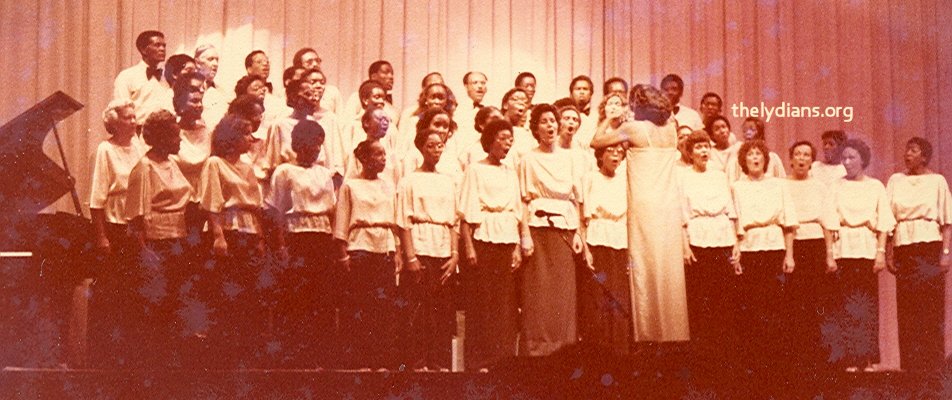 Spence saw the musical landscape in need of a new infusion of excellence. Let there be Lydians. This was no simple act of making. Our sound forged and honed in the spirit of competition, the Lydians were wielded in service of the soul of community through public performance. With her initial 20 acolytes, they triumphed at the Music Festival. Epic origin story secured, they proceeded to present music of the Western "classical" tradition, at the highest quality. Not content to simply be excellent, Spence also imbued the group with the sense of drama that it would come to be known when, on the last performance of Bach's 'Christmas Oratorio', five years after its founding she stood, cigarette held aloft as she spoke to the choir and the then (and now) accompanist Lindy – Ann on the steps of the Anglican Cathedral "I believe that's it." So was her retirement. And so were we, after some time adrift, ushered into the stewardship of Ms Alma Pierre.
Pierre came with a deep love of music of the choral tradition – and a passion for the music that the region had created.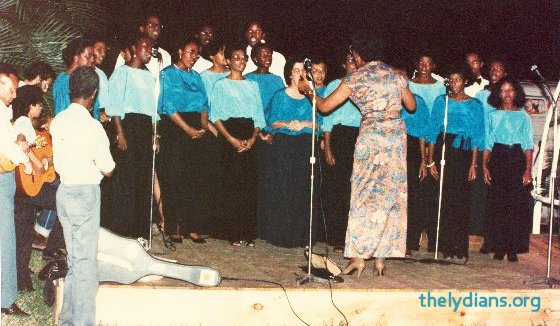 She kept the tradition of performing music of the Baroque, Classical and Romantic extraction alive, while also exploring and presenting things born of Trinidad and Tobago – as well as the wider Caribbean. In our archives are found Trinidadian folk songs as well as Jamaican and Barbadian seasonal songs, arrangements written in her hand and no doubt presented to appreciative audiences. Where with Spence the departure was to Bach, Pierre's parting masterwork (though not as immediate), was a cantata presentation of Samuel Coleridge – Taylor's 'Hiawatha's Wedding Feast'.
If I have done my job well enough, (in that you are still with me) we recap: Lydians, born of musical excellence, presented works spanning J.S. Bach's Christmas Oratorio to Coleridge – Taylor's Hiawatha's Wedding Feast – and now had integrated Caribbean folk music and some calypsos into the repertory.
The stage was set for drama – and what else could it be set for when the next director was nothing short of dynamo?
Spence founded, Pierre contemporised, Pat Bishop came and electrified!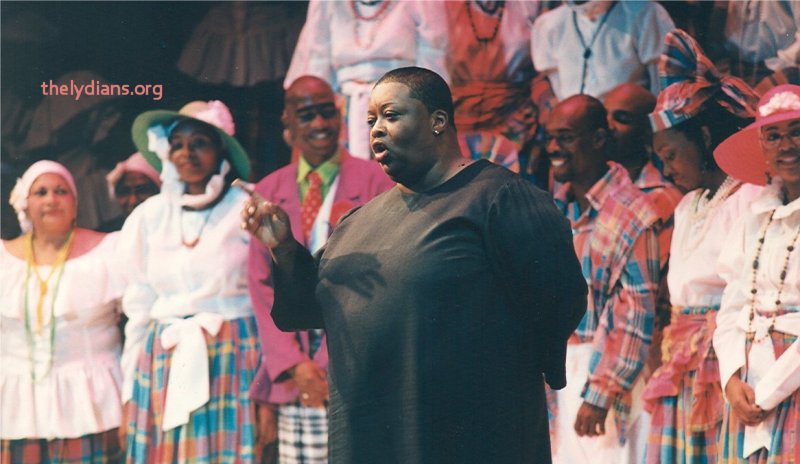 A List that read like a "who's who" of composers
Again, after some wandering, a new director came, who paid respect to the tradition of presenting works with excellence. The highlight reel of Bishop's sacred Masterworks reads, honestly, like my bucket-list of works to sing in. Sacred and secular works by Vivaldi, Monteverdi, Bach, Handel, Mozart, Beethoven, Verdi, Poulenc, Faure, Coleridge – Taylor – all holding pace with calypsos by Rudder, Kitchener, Shadow, Sparrow, and the like. This reads already like an impressive rap sheet to leave behind, no? this is not nearly the end. Bishop presented the folk of her people, delighting, by all accounts, as much in Parang as in a sublimely delivered Aria of Italian extraction. Christmas time was a highlight for her (and since, the Lydian Christmas is a highlight of the choir's annual life).
Not content with only European spiritual devotion, Pat sought to present the full-length works the region had to offer as well. We moved from the masses and motets of Europe into the Misas and Masses where the sound, much like the food, has a little more spice. The choir's extensive repertoire diversified yet further, with works by Argentinian Ramirez; Cuban Vitier; Jamaicans Whylie, Lightbourne and Dexter; Trinbagonian Wooding; Still not content and seeking ever more sounds and styles that present their possibilities in the Caribbean potential, she sought out the Sacred in Africa. Chants and celebratory songs given their due, she mounted the Congolese traditional and Haazen recorded Misa Luba. And still we have not come to that jewel to which I referred. Though the list already shines aplenty so far, we still have not come to one of the chief frontiers Ms B would take the Lydians through. We have now come to the space and place where context is now physical as well as aural theatre – OPERA. (Click here to learn more about the Lydian Opera Legacy)
Lydians in Drama: Opera
On taking the directorship, Bishop, who had previously written and staged her own original operatic work, was now in possession of a vehicle which could handle the robust and sweeping works she grew up loving. She decided it was time that Lydians needed to expand into full length Operatic works. Not content to do highlight choruses in a recital setting, she took the choir through 5 operatically staged works.
The Lydian 'SSATB' – Steel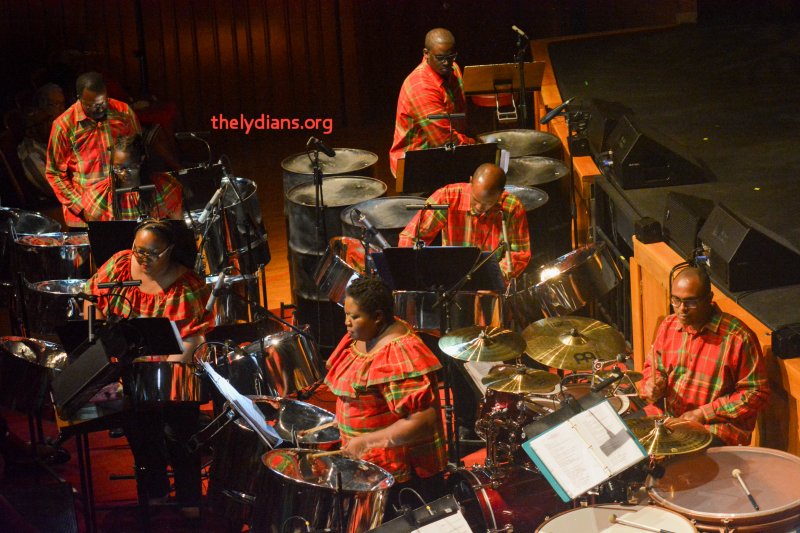 I feel I keep using the phrase "Not content to simply" when referring to Pat or the Lydian Matriarchs, but I find nothing else is probably as apt. Bear with me. Not enough to have expanded the choir's already staggeringly impressive repertory (and its ranks, because sis did for the choir what Romanticism did for the orchestra – Larger, stronger and more intense), Ms. Bishop also saw the formation of the Lydian Steel, which was charged with being a voice of accompaniment for a choir that had outstripped in repertory and size, accompaniment on only one or two keyboards – operas, Oratorios and Cantata demand a more fulsome sound – and the choir needed a permanent cadre of instruments the players of which were earnest, willing – and could read music. Previously, we had the Lydian Players, a set of traditional instruments that accompanied the choir, and the time had come not only to integrate the TT born instrument and its colours, but to engage with them as a part of the "vocal fabric" of the group. Eventually, the Steel went on to star up the stage of Music festivals abroad with the sublimely delivered interpretation of Baroque music. Chords of chrome let fly with voices to this day and are typical of a Lydian offering.
A Treasury of Talent
Though my focus is on the music, I hasten to point out briefly that such varied and demanding repertory demands, of course, that we seek out voices capable of delivering the excellence we exude and exhibit.
And yet, for at least 30 of our forty years I can confidently say the Lydians have never held an audition. The tri-weekly pilgrimage of soloists, choristers and players has been a journey to stages and into hearts – unimpeded by the pressure of being asked to demonstrate your worthiness to be here. Being willing is enough. Being present is enough. Leave it to us to find where you fit, and you will be welcome now and always.
40 Years A Choir
40 years of richly rewarding and artistically engaged music. Spence founded and set the tone. Pierre showed us our own music. Pat expanded repertoire and style, and told Caribbean History from Enslavement, to Emancipation, the Coming of the Indentured from Asia and the Advent of Carnival and local tradition as post – colonial life through the choice and order of her operatic programming (yeah, I don't know if that is deliberate either but it is amazing to realise). Ms Granderson was determined to make the music fun and light again.
Music is a gift and the ability to perform it, a grace.
VIVAT LYDII!!! – Long Live The Lydians!!!