The Lydians Soar in September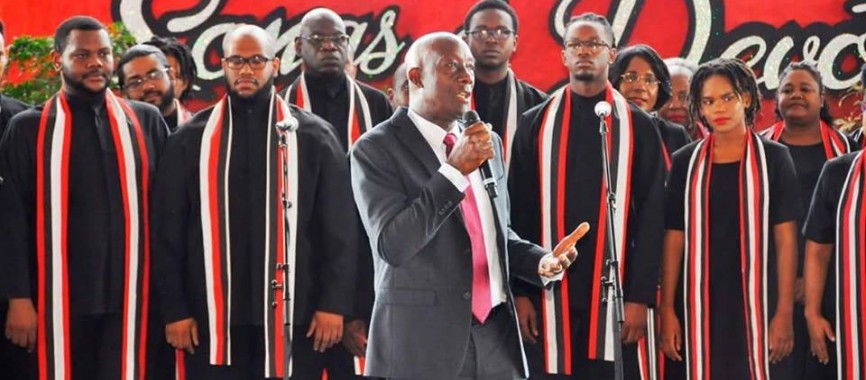 A September to Remember...Big5, Republic Day, Charity Performances and more!
Another one for the archives! The Lydians and Republic Bank Exodus performed for the 2018 annual 'Big5' Concertand were featured in the Trinidad Guardian newspaper for the performance. Our deepest thanks and gratitude to the management of the Exodus Steel Orchestra for inviting us to perform with them on this auspicious occasion in tribute to our former Musical Director, Patricia Alison Bishop.
The Lydians performed on Republic Day 2018 for the annual Day of Thanksgiving under the Office of the Prime Minister. In this photo, Dr. The Honourable, Keith Rowley, Prime Minister of the Republic of Trinidad and Tobago addresses those gathered for the morning's proceedings with the Lydians flanking him, having just performed.
Our Community outreach and fundraising efforts for Churches and organizations continued this year with 'An Evening of Memories and Music' at the Tranquility Methodist Church last weekend! Thank you to the Trinidad Guardian and photographer Kerwin Pierre for this coverage.
The Lydians head to South Trinidad!  The Parish of St. Barnabas embarked on a project to build a rectory to house its Parish Priest. They are so close to starting the project, but need just a bit of extra help and resources getting it off the ground. The Lydians were honoured to be invited to contribute to the effort through a full-length concert performance on Sunday 30th September at 6:00 p.m. at St. Paul's Anglican Church in San Fernando, in an effort to raise these additional funds for St. Barnabas. Above: "I've Been 'Buked" performed by The Lydians at St. Paul's Anglican Church last evening. Conducted by Assistant Musical Director, Carl-Anthony Hines.