Myrtle Cumberbatch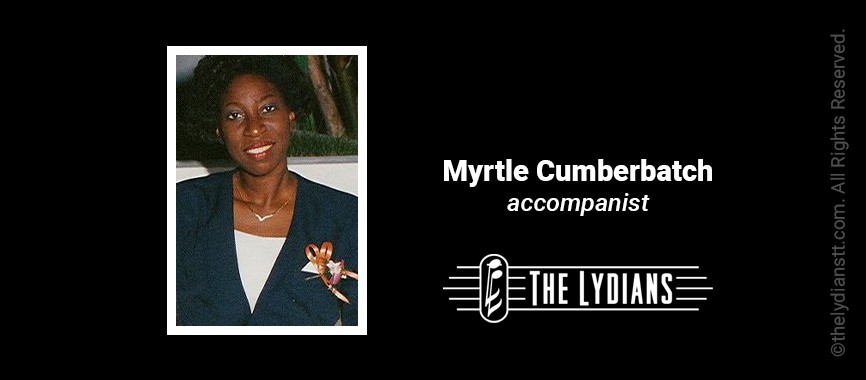 As a child Myrtle and her two siblings Edward and Rhonda had the good fortune to be taught music at home by their mother Theodosia. With this solid foundation, Myrtle continued her music education under the guidance of Marjorie Padmore achieving grade 8 in both theory and practice from the Trinity College of Music.
In 1975, Myrtle left Trinidad for Indiana USA where she attended two learning institutions - Anderson College and Ball State University - gaining her Bachelor's and Master's degrees in French. While majoring I this language, her love for music led her to success in this subject as a minor in her degree courses. An endearing experience was her participation as a chorister with Anderson College's gospel choir - the Reformation Movement - which toured neighbouring states. Upon returning to Trinidad, she established contact with Gillian Ballinthulo to ensure that her musical expertise was kept in tact.
In the meanwhile, her working career as a French teacher at Fatima College began. After two years the college authorities recognised her musical ability and she also became responsible for tutorship of music theory and practice to individual students. In addition, she has the task of accompanying soloists and choir at the bi-annual Music Festival of Trinidad and Tobago and at school functions.
Myrtle is a valued accompanist for Patria, a group of singers who function under the auspices of the Church of God. It has been Myrtle's good fortune to visit Antigua and Barbados with this group.
In 1987 Eddie, with sister Myrtle as accompanist, began to rehearse under Pat Bishop's guidance. Shortly after meeting Ms Bishop, Myrtle joined the Lydians. By then Myrtle had a history of being an accomplished accompanist particularly at church, having developed a love for this role since her first efforts at the Church of God in Santa Cruz. Rather than perform as a solo artiste it is her preference to accompany other performers. This role has been played efficiently for Lydians at home in Trinidad and Tobago and also in Panama and Barbados.
Gospel, rhythm and blues, jazz and classical are preferred genres of music for Myrtle. Her love of classical music grew following her exposure as a Lydian to this kind of music.
While Myrtle is excellent at sight-reading and accompanying, she confessed to having some problems when the Lydians undertook the Verdi Requiem but overcame all obstacles well in time for the stage performances. She would like to become adept at playing by ear and learning modern chord structures.
Myrtle's demure presence behind the keyboards is reassuring, for Lydians can always rely on her flawless musicianship.