Save the Dates..."Christmas starts with The Lydians" December 10-11, 2022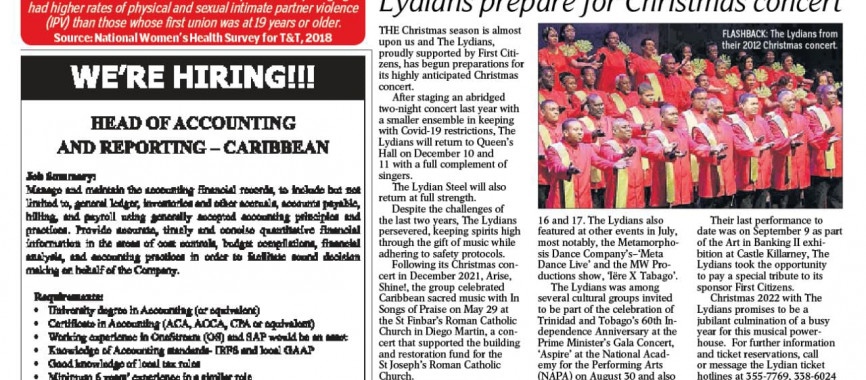 Christmas preparations are in full swing, and this past week we were extremely grateful and delighted to have our Press Release carried by Trinidad Express on Wednesday, 19th December 2022 and then by LOOPTT on Thursday, 20th December 2022.  The year has certainly been an active, and inspiring one for The Lydians, proudly supported by First Citizens.  We continue to strive in very dynamic and often difficult market to continue our mission of nurturing to the nation through the gift of music.  This Christmas will be no different.
Save the dates for our Christmas concert 2022 - December 10th and 11th.  Ticket reservations are open!! Book early and take advantage of our limited early bird special.  Call 355-7769, 338-6024 or 328-7819.
See the full release below:
---
The Christmas season is almost upon us and The Lydians, proudly supported by First Citizens, has begun preparations for its highly anticipated Christmas concert.
After staging an abridged two-night concert last year with a smaller ensemble in keeping with COVID-19 restrictions, The Lydians will return to Queen's Hall on December 10 and 11 with a full complement of singers.  
The Lydian Steel will also return at full strength.
Despite the challenges of the last two years, The Lydians persevered, keeping spirits high through the gift of music while adhering to safety protocols.
Following its Christmas concert in December 2021, 'Arise, Shine!', the group celebrated Caribbean sacred music with 'In Songs of Praise' on May 29 at St Finbar's Roman Catholic Church in Diego Martin, a concert that supported the building and restoration fund for the St. Joseph's Roman Catholic Church.
The anticipated Lydian Steel recital concert, 'Seasons of Steel - a 25th-anniversary celebration' took place on July 16 and 17.  The Lydians also featured at other events in July, most notably, the Metamorphosis Dance Company's – 'Meta Dance Live' and the MW Productions show, 'Iëre X Tabago'.
The Lydians was among several cultural groups invited to be part of the celebration of Trinidad and Tobago's 60th Independence Anniversary at the Prime Minister's Gala Concert, 'Aspire' at the National Academy for the Performing Arts (NAPA) on August 30 and also had the distinction of performing at the 'Toast to the Nation' on Independence Day at the same venue.
Their last performance to date was on September 9, as part of the 'Art in Banking II' exhibition at Castle Killarney, The Lydians took the opportunity to pay a special tribute to its sponsor First Citizens.
Christmas 2022 with The Lydians promises to be a jubilant culmination of a busy year for this musical powerhouse. 
For further information and ticket reservations, call or message the Lydian ticket hotlines at 355-7769, 338-6024 or 328-7819.  Special early bird discount will be available until October 31.