The Lydian Drummers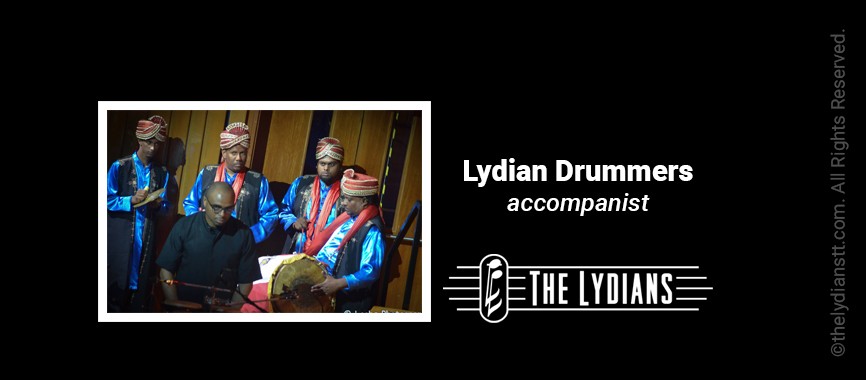 Evolution of the Lydian orchestra has become rather unconventional. The strings, brass and woodwinds have been replaced with electronic keyboards, African and Indian (tassa) drums and Trinbagonian (steel) drums.
The evolution has occurred over a number if years fuelled by the insight and vision of the leaders if the choir, particularly Pat Bishop. In the early days of the Lydians, a simple piano-sufficed to provide support for the voices. However, when performing at venues throughout the country became more and more a part of the routine of the choir, we could no longer rely on the availability of a functional and reasonably competent instrument at all venues. With the support if the National Gas Company, electronic keyboards were acquired in 1992. These instruments have become the babies of Agnes Frederick, Jerome Dinchong, Sheldon Morales and Lindy-Ann Bodden-Ritch.
As the musical repertoire expanded, so too did the need to expand the musical accompaniment to provide the ideal flavour to the performances. The essence of the Missa Luba's vivacity could not be captured without the addition of African drums, and it became only natural that the other major influence on the culture of Trinidad and Tobago - the East Indians - should be included in the presentations. Many an audience has been captivated by the Lydian's interpretation of Handel's Hallelujah Chorus. Xavier Phillips and his group have added an African flavour while Soogrim-Ram Tassa Drummers have added an Indian flavour.
We would have done much disservice to our country, our music and ourselves had we excluded our most precious musical Instrument. The Lydians have had a long standing and close relationship with WITCO Desperadoes, the Samaroo Jets and several other steelbands through-out Trinidad, constantly fuelled by the great respect that the pan world has for our current Director, Pat Bishop. Performances alongside these bands were common and much anticipated.