Janine Charles-Farray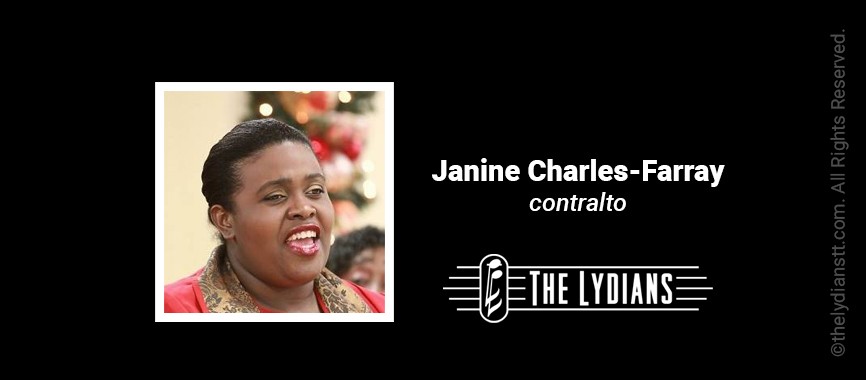 "Singing and performing is side of my personality and my life that I have left in its natural state-- spontaneous, fun and unpredictable." Singing 'for fun' is a philosophy that Janine Charles-Farray has stuck to religiously for the last 20 years of her life.
A long time lover of the 'soulful classics,' Janine Charles-Farray began singing in Primary school under the baton of Mrs. Charles of the St. Finbar's Girls RC School. Her love of singing grew during this period through experimentation with the popular music of the day such as R&B and Pop, as well as the classics of vintage ballads and religious music taught by her primary school music teacher.
She developed a love for standard R&B and Soul favourites of Whitney Houston, Mariah Carey and Aretha Franklin all the way into secondary school at Bishop Anstey High School. Her musical journey continued where she sang in the choir environment for her entire school life, developing her voice under musical directors Ms. Baccus-Iffil and Ms Granderson. In secondary school, Janine began entering the Music Festival expanding her range as a Contralto voice.
In life outside of school, Janine enjoyed playing steelpan, cuatro and African drums at her Church along with acting in plays with her Church youth group.
A member of the Lydians for over ten (10) years, Janine has entered and won the Contralto class three times in a row, also winning the Ladies vocal recital class in the North category for the first time recently. She continues to sing with the choir to date. Admitting an eclectic taste in music, Janine enjoys listening to many genres ranging from Parang, Calypso, Soca, Rock, Classical, Soul, Jazz and Hip Hop. And, she also lists Jill Scott, Nina Simone and Ella Andal among the main influences of her performing style.
She has also sung across many genres including funk, rock, classical, calypso, negro-spirituals and gospel to name a few. Her musical aspirations include, writing and performing a soca and parang selection some time in the near future!