Glenis Yearwood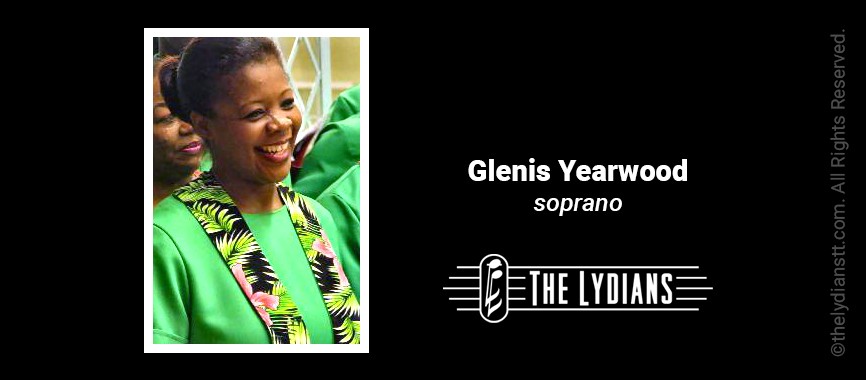 One of the original members of the Lydian Singers, Glenis excels as a soloist. Her singing career began in church at age six and she regards religion as the foundation of all she has accomplished. She has also sung in parang groups, folk groups for 'Best Village' and was once the calypso queen at Bishop Anstey High School.
Credible performances at music festivals as a soloist, member of ensembles and choirs since 1972 have won her numerous prizes. One of most memorable years though, was 1990 when successes included North winner in soprano, ladies oratorio and ladies operatic aria classes and winner at championship level of the mixed duet and operatic aria classes.
Glenis has studied music theory up to grade two and played the mandolin for two years. She now aspires to play the organ one day. Her music teachers were Joyce Spence, Anne Marie Osborne, Pat Bishop and Glen Worrell. Glenis has played four major roles as a part of The Lydian's three major Operas. Along with Joanne Pyle, she has shared the roles of Palmyra from the opera 'Koanga' by Delius, Turandot in the opera of the same name by Puccini, Adina from the opera, 'L'Elisir D'Amore and also the role of Euridice, from the opers 'Orpheus and Euridice' by C.W. Gluck in September of 2005.'
Glenis is a graduate of Valsayn Teachers College and UWI with a double major in Literature in English and Linguistics. She teaches English and Science at Maple Leaf International School, runs a choir there and guides its promising singers in their musical careers. She regards her membership of The Lydian Singers as a wonderful opportunity for personal fulfillment and community service.