Germaine Wilson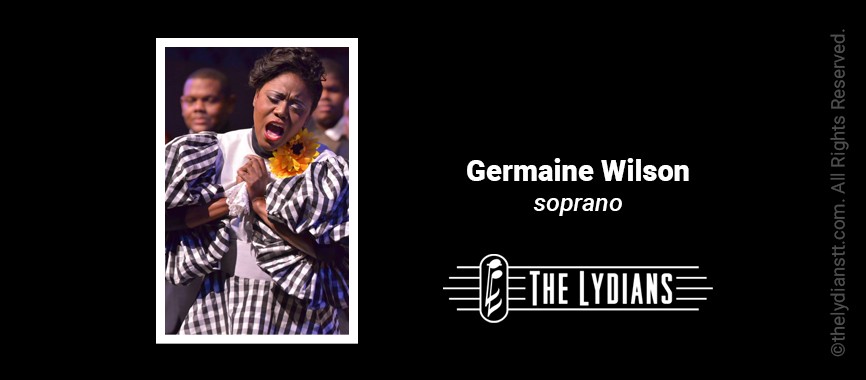 Lydians shared Germaine's joy at the 1999 music festival when she won the Edric Connor Memorial Trophy for Best Folk Song Solo. Lydians equally looked forward to her successful debut performance as a lead singer in the grand opera - Liu in 'Turandot'.
This singer particularly likes powerful music, whether it is gospel, inspirational, classical, jazz or rhythm and blues. It follows that an emotional connection with her audience is essential to put over a song with conviction. Germaine has mastered pieces such as 'Queen of the night in Die Zauberflöte' and the 'Doll Song'. A true Coloratura-soprano but very versatile, Germaine is also an accomplished pannist and plans to learn the guitar and piano as well.
She has acheived several trophies and accomplishments in the Trinidad and Tobago Music Festival, including the havelock Nelson Cup for Ladies Operatic Aria, and a shared trophy (The Subscriber's Cup) with tenor Garnet Allen for the mixed vocal duet category. She was also awarded the Chesteron Ali Memorial trophy for her excellent performance in the Voval recital Class, the Dr. Dorrel Philip Trophy- sharing the title of winner in the Broadway class along with three other of her Lydian choristers and the title of Most Outstanding Performer and the May Johnstone Commemoration Shield. Music teachers credited include Pat Bishop, Enrique Ali and Joycelyn Sealy. She has also been strongly influenced musically by Pat Bishop, Ella Andall, David Rudder and two fellow Lydian soloists - Eddie Cumberbatch and Joanne Pyle.