Garnet Allen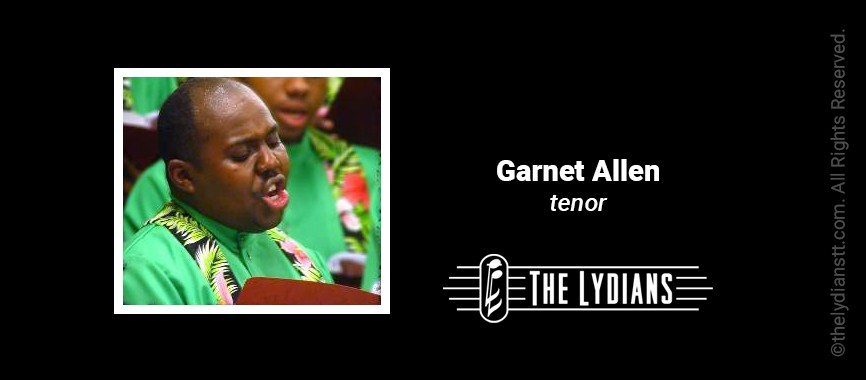 Garnet is from 'South'. While at Presentation College, he sang with both the Junior and Senior choirs under music teacher Ms. Cynthia Lee Mack. He also sang with the 'Prescon Alumni Choir', the 7.00 a.m. Lady of Perpetual Help, San Fernando and 'Belvedere', before joining the Lydians in 1998.
Under Pat Bishop's direction, and as a Lydian, Garnet emerged winner at the 1999 music festival in two categories - the Mixed Duet Class and Best Male Choir. Also in 2004, Garnet topped the competition to emerge winner in the Baritone solo category in the North region.
He attained further music festival successes in the recent 2008 music festival winning the Bass Solo-Open in the North zone with "Myself When Young" from L. Lehmannsharing. He also shared a trophy (The Subscriber's Cup) in the music festival championships with Soprano Germaine Wilson for the mixed vocal duet category. He was also awarded the Dr. Dorrel Philip Trophy- sharing the title of winner in the Broadway class along with three other of his Lydian choristers.
Garnet likes all kinds of music but felt challenged by his solo role as 'Pang' in the opera 'Turnadot'. Garnet admitted pushing himself to give the best performance possible, so that audiences, large or small, would feel gladdened by listening to his efforts.