Donna Marie Neeves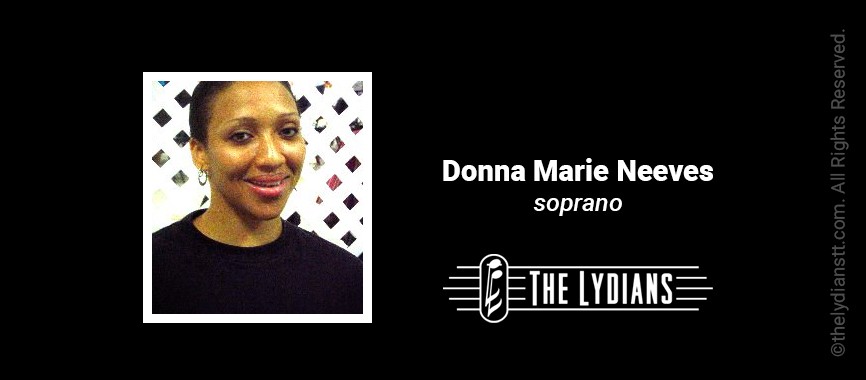 How long have you been singing?
D-M N – I always sang, or at least, I always enjoyed singing. I sang in my primary school choir, secondary school choir, church. But as Pat Whittle loves to point out, I couldn't really sing before Lydians. So I guess instead of saying that I sang all my life I would say that I always enjoyed singing.
How long have you been a Lydian?
DMN - I joined the Lydians in September 1996. At that time the choir was preparing for the opera L'Elisir D'Amore. At that time I had just entered Bishop Anstey as a Form Six student from North Eastern College.
Where else do you sing?
D-M N - For the most part just Lydians
What big roles have you done before?
D-M N None really
What solo work have you enjoyed?
D-M N - The Rock Nativity (Mary), The Alto Rhapsody ( I enjoyed being the lone female in the men's concert- Four Sundays in July 1998), The Sea Picture by Elgar - Ladies Concert 1998. There were other solos here and there but they were neither here nor there. To be honest I prefer singing as a part of a duet, trio or small ensemble than doing solo work
What do you do in real life?
D-M N - That's a good question. I'm an attorney, and for now, I work in the Legislative Drafting Department of the Office of the Attorney General.
What real life demands do you have?
D-M N - None really. My biggest challenge is to constantly find new ways to entertain myself.
How do you fit Lydians in a busy life?
D-M N - What busy life? But seriously though, I often tell people that I need distractions. At school, I would focus on school work best when I knew that I had a million other things to do and therefore didn't have any time to come back to it later. If I don't constantly have something new and interesting to do I get bored and would procrastinate. Lydians sometimes provides that new and interesting "thing" for me to do. So I guess that Lydians doesn't prevent me from doing other things but helps me to do them better
What are you looking forward to in a singing career?
D-M N - I'm not nearly good enough to talk about a singing career. A hobby at most. I'm just grateful for the opportunity that Pat and the Lydians afford me, to try.
What life dreams do you have?
D-M N - Wow! If you asked me this question a year ago I would have given you a very confident answer but right now the best that I can say is that I'm keeping my options open. Whatever I do though I hope it affords me the opportunity to travel extensively
Any thing you'd like to add about Orpheus & Euridice & Amor?
D-M N - I heard that I might be singing in the same cast with Joanne Pyle and Michael Zephyrine. While this means singing with two first class singers (so I need to give it my best), it also means working with two people who are supportive and willing to share what they know.
Interview with Barbara Jenkins