Celestine M. Joseph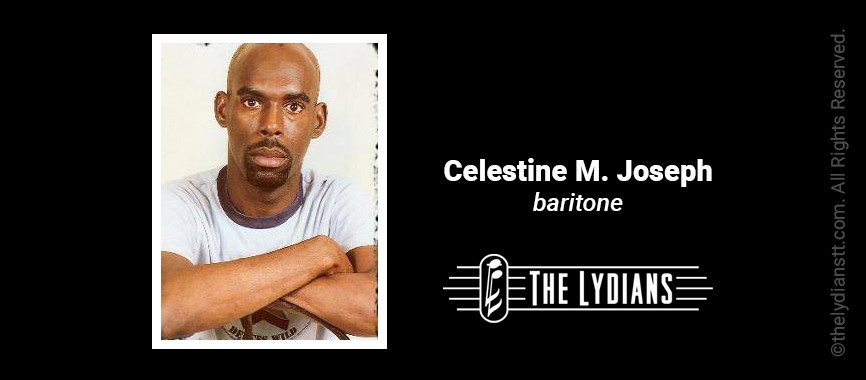 Anyone who knows Celestine is aware of his mischievous qualities. However, he is serious about his music and has received vocal training from Mr. Enrique Ali and Dr. Pat Bishop as well.
As a member of the 'Diamond Chorale', Celestine credits its leader, the late Chesterton Ali, as being his greatest musical influence. With the Lydians since 1995, he visited Barbados in 1997, performing the role of 'Pete' in the opera 'Koanga'. At the 1999 festival, Celestine was a proud member of the Lydian male choir adjudged Best Adult Choir, the Lydian male quartet - first in the north zone finals; and Diamond Chorale, the Most Outstanding Choir at the festival that year.
A lover of classical music and Negro spirituals he was delighted to play the role of 'Pang' with whom he easily identifies. An enduring memory for Celestine is learning the Hebrew chant, 'Kiddish', and being privileged to sing it at a recent funeral service.
Celestine Joseph followed his outstanding winning performance at the 2002 T&T music festival by winning 3 trophies at the 78th Leicester music festival in England. He won the male voice class, for which he was awarded the A.D. Carmichael silver cup, with the test piece for bass/baritone, 'the ballad of semmerwater' by A. Gibbs. In the British composers class her won the Louise Martin Memorial cup for his performance of his own choice, 'the vagabond' from 'the songs of travel by Vaughn Williams.
Still, there was more to come form this extremely talented singer. In the category of 'songs from the shows' he performed 'Stars' from the musical 'Les Miserable', coming second out of 21 performers. Just like the saying 'save the best for last', Celestine certainly did. With his entry for the Operatic male voice class, his rendition of 'It ain't necessarily so' from the Gershwin musical 'Porgy and Bess', once again impressed the judges. The adjudicator, who awarded the highest honour of distinction, was quoted as saying, 'I will not be surprised if next time I see Celestine it is not on the West End stage. We have here a truly talented singer.'
For those of you who can remember the 2002 T&T music festival, Celestine won the Bass solo, Folk song solo, Baritone solo, Oratorio Gents voice solo classes as well as being part of the winning Lydian Operatic Ensemble. At Championship he was awarded the Lorna Myers shield for 'outstanding performer in at least 10 categories with at least 85 points', the Mavis Johnson shield for 'most outstanding performer in the whole festival', the Rochford cup for being in the 'best Operatic ensemble' and the Edric Connor cup for his outstanding performance of 'The Stuttering Pastor' and 'Murder in de Market'. We would like to congratulate Celestine and wish him all the best in the future.