Edward Cumberbatch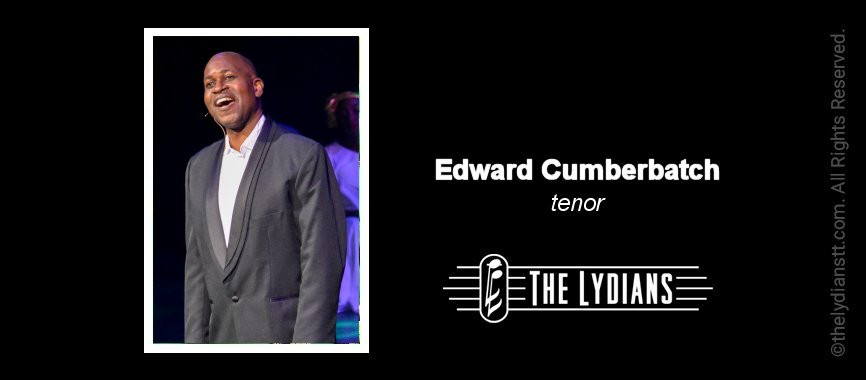 A profile of Edward Cumberbatch
Eddie started singing in church when he was a young boy and continued to sing as a member of Tranquillity Primary school choir. His early musical life also included tutorship on the piano by his mother Theodosia and recorder lessons by Marjorie Padmore. Upon proceeding to the USA he sang at East Side Junior High School and North Side Middle School in Anderson, Indiana State, also joining the school the school bands to play the trumpet.
After his return to Trinidad he attended Queen's Royal College for two years, continuing to sing and to play the trumpet. He did solo voice work tutored by Geraldine Connor. On journeying back to the USA he attended Anderson College in Indiana obtaining his Bachelor's degree with a Physics major and a Mathematics minor. He joined the male chorus, studied at voice classes, and successfully auditioned for private lessons in voice. Having also undertaken history and theory lessons in voice and with a successful recital to his credit he was awarded a music minor. He then concentrated on his academic studies gaining a Master's in Physics, while continuing to sing in church and entertaining himself on the piano.
His studies continued at UWI Trinidad where he obtained a Master's in Solar Energy in 1986. Employed as a Physics and Mathematics teacher at St. Mary's College Port of Spain, he also assists the music teacher Ms Bodden-Ritch in her work with the choir.
In 1986 he accepted the advice of Denise Stephenson a music teacher at QRC who encouraged him to join the Lydians of which Pat Bishop was the Musical Director. He entered solo work categories at the 1987 music festival. Fourth place in both the tenor and baritone solos and second place in the Leider class with his sister Myrtle were his rewards. He had not known Pat sufficiently well to seek her guidance. Later that year having been requested to perform by the Recital Club he sought Pat's assistance and she willingly obliged. In 1990, this well-ensconced member of the Lydians earned an astonishing number of trophies – 9 – during music festival performances, emerging as the Most Outstanding Performer.
Eddie credits his early love for music to his parents Carlton and Theodosia and to the Church. He fondly recalled listening to classical music on Saturday mornings while he did his chores as a young boy; he mused on the powerful medium of expressive religious music sung in the precincts of the Church of God as a renewal of faith. Joyfully he reflected upon his journeys to Finland and to Russia as a member of the male chorus of Anderson College; the choir's performances had broken the language barrier as they travelled from church to church spiritually uplifting the congregations with their music.
His excellent tenor voice has taken him to Antigua and Barbados as a member of Patria - a singing group which functions under the auspices of the Church of God. As a member of the Lydians his voice has thrilled audiences in Trinidad and Tobago, Panama and Barbados.
Singing with the Lydians has provided new opportunities. For example, when Lydians first undertook performance of operatic works, combining acting with his proven skills in singing was a great challenge since he lacked formal training in the discipline of acting. Practice has made it increasingly easier for him to realistically combine the two artistic forms; once he becomes the character in the opera, his enjoyment of his performance supersedes his self-consciousness.
His most trying season with the Lydians was the Verdi Requiem was undertaken. He really struggled to achieve his usual high standards.
Notwithstanding an extremely self-confident demeanour on stage, Eddie has confessed to experiencing the sensation of butterflies in the stomach common to many seasoned stage performers. Once he starts to sing that sensation evaporates.
Eddie enjoys various types of music inclusive of classical at the top of the list, in which area his preference is for twentieth century classical music. Gospel, pop, reggae, dub, rhythm and blues are also favoured. He does not like rock and country music.
Eddie wants to continue improving the quality of his performances but does not envision himself as a full-time professional singer. A life on the road, a continuity of auditions for roles do not fit his preferred ordered lifestyle. However, should an opportunity arise to work with a famed Music Company he would welcome the experience.
One of his most major challenges materialized in South Africa, where he contested in the Eistedfod in the Over 25 Vocal Recital class during a fifteen-minute session. This opportunity could have been traced to the 1997 T&T Music Festival at the Queen's Hall venue, when one of the ajudicators, Jamaican Dr. Lewin, was exposed to Eddie's moving performance of the lead role of Nemorino in the opera L'Elisir d'Amore performed on the opening night by guest artistes – the Lydian Singers. She felt that such a high level of work should be experienced by audiences further afield than Trinidad and Tobago.
With the concurrence of Pat Bishop, successful efforts were made to have Eddie audition as a prospective participant.
In the end Eddie was adjudged the winner of the Over 25 Recital Class at the 1997 International South African Eistedfod. Eddie is by far the most successful of the Lydian soloists. He went on to sing in the role of 'Calaf, son of Timur' in the Lydian Singers production of the Opera 'Turandot' by Puccini. With resounding sucess, Eddie also went on to play 'Orpheus' in the full-length opera production of 'Orpheus and Euridice' by Gluck.
In 2006, Eddie released his first Gospel solo album entitled, "The Lord is My Light" in conjucntion with the West Indies Theological College (WITC). Under the leadership of two Church of God missionary couples - Rev. Clair and Retha Shultz, and Rev Ralph and Ruth Coolidge, the school has long been a key center for training pastors and other Christian leaders for the West Indies region. Eddie is contributing all proceeds from the sale of this project to the WITC Theodosia Cumberbatch Endowment Fund.
In 2008, Eddie starred as the gentle 'Chibiabos' in the Lydians production, 'Scenes from the Song of Hiawatha.' For three nights at the Queen's Hall Auditorium in St. Ann's and for three more nights at Skiffle Bunch Panyard, San Fernando and at the Carib Community grounds in Arima, Eddie soothed and seranaded audiences as the "sweetest of all musicians" at the wedding feast of Hiawatha and Minnehaha. Before his performance on one evening in south, Dr. Bishop recalled fond memories of her youth, when her father would hum the famous aria written by American poet, Henry Wadsworth Longfellow and composed by Afro-British musician, Samuel Coleridge-Taylor, "On Away, Awake! Beloved." Eddie then captivated the audience with his rendition of the same aria, to the coos and sweet sighs of the village maidens at Hiawatha's Wedding Feast.
Also in 2008, Eddie released his second Gospel CD entitled, "I Will Praise Him!" with well known favourites such as, "Holy Ground", "Friends In High Places" and "Amen." Both his CD releases "The Lord Is My Light" and "I Will Praise him" are currently on sale at $100(TTD) each, and can be ordered through this website ([email protected]).